Have the Decemberists parted
Christoph Busch has rented a kiosk even though he doesn't want to sell anything. The 71-year-old waits in the Emilienstraße subway station for people who want to tell him their story. He self-ironically calls his project "Das Ohr", because Busch only hears in one ear from birth. He will make a book out of the stories he collects - he already has a contract.
HAMBURG SCENE: Mr. Busch, you are sitting in a subway station in a room that usually sells bread rolls and cigarettes, listening to people. How do you come up with such an idea?
Christoph Busch: I am a screenwriter and originally wanted to observe people here in order to collect material for my own stories. In doing so, I quickly realized that there was a great need for people to be listened to.
Why a subway station of all places?
It all happened by chance. I saw the Hochbahn's "For Rent" sign and had the vague idea of ​​working here. Last September I asked, although I still had doubts. Who likes going to a dark subway station? At home I have a wonderful view of trees from my desk. During the renovation in December, the whole horror disappeared and I noticed that this can be an exciting matter.
How did the talks come about?
In the beginning maybe three people a day came and spoke to me curiously - this is how long conversations developed. Basically there are still so many, because I can't manage much more, although sometimes I stay longer. In the beginning I still wrote a diary, but after a short time I stopped doing it and since then I've only been listening.
What concerns do people come to you with?
Some just come here to tell me carefree anecdotes. But of course there are also people who finally want to come to terms with their whole life. That people come here with their grief is the first step and shows that they have already taken an initiative. Very often something then comes into motion that was already inherent in them.
Can you give an example?
Well, unhappy people come most often. These stories are exhausting, but also full of turning points: When Hans tells his biography at the age of 84, one is amazed at how cinematic his life is! Home education, the war in Eimsbüttel, later boxer career. At 30 he became a window cleaner and met his wife. He always wears one of hers when he is here and visits her every day at the nursing home. His biography already stands out.
What do you tell people?
I am not a therapist. I also give advice on what a therapist should never be allowed to do. I'm Christoph Busch and that's how I react when I listen to people. Sensitive, of course, but when I see that someone is reeling off a repeated pattern, I'll make a joke. In fact, I always try to find out where people want to go myself.
Are you not concerned about not having learned this professionally?
No, I always make it clear that I am not a therapist. If I realize that I could be confused with this, I will address it immediately. When people have a long-term problem - for example lovesickness - and friends and family no longer want to hear that, then I'm there, I also advise you on certain decisions and am curious what will come of it.
Surely people will come to you who have even more serious problems than "just" lovesickness.
Yes sure. For example, a woman came to me who had been sad for a long time because her brother had died in a traffic accident. She can't get rid of this grief, and because she couldn't cope even after a few years, she started pasting all the photos of her brother into one big album. In the meantime, she has noticed that she doesn't want to relive this grief over and over again. At the latest when she told me about it, she realized by herself that she needed professional help.
Don't you sometimes have to keep your distance so as not to get too close?
No, I'm close to the people and the work here is physically and mentally demanding, but I don't take any burdens home with me. When I get home, my wife and two children have a pure contrast program. When you hug a child, you can forget about all the rest.
You also have an interesting résumé yourself. You only ever hear other people's stories, now you can tell yours too!
My mother would be very happy that I am doing some kind of pastoral care here: My three siblings and I were brought up very catholic. As a law student, I got into the 68s and suddenly knew that I no longer wanted to be a diplomat. I then did everything possible until an editor at WDR put me together with director Peter Steinbach. During that time I often went to see him in Denmark and learned a lot from him. Because of the distance, I moved out of my very friendly flat share in Münster and moved to a new apartment in Hamburg. 20 years ago I met my wife here, with whom I now have two children.
How does your family like what you do here?
Of course, the children find it exciting. Even if I'm not at home that often now. Before that, my wife and I both worked from home. I miss that a little. My wife first had concerns and worries that something would happen to me down here. But I haven't even been bullied here, not even a stupid remark.
I always hear a socio-political dimension in your statements.
No, I wouldn't say it that way. But I observe a general feeling of discomfort with interpersonal relationships. Many people have the feeling that they are just living and that no longer have anyone to listen to.
Why is that?
I have two theories on this. Those who shape their image of man with the media can only be afraid of others. There are always negative headlines in the newspapers - fear sells. I notice myself how I fall for it when I reflexively connect subway stations with pushers and thugs. But there are also a lot of lovely people. In advertising, on the other hand, you no longer see misfortune: people shout out their joy. But that's not the reality either. Many people do not dare to let their grief out because they feel compelled to only exude happiness.
So we are bombarded with fear from all sides in the media, which creeps into the subconscious. On the other hand, fear is not socially accepted. Interesting people are optimistic and fearless, as advertising leads us to believe. Isn't that an incredible amount of pressure that this contradiction builds up?
Yes, that complements each other perfectly. The gap between what life really is and what life should be like grows bigger and bigger.
Contrary to what you said, you have now become quite sociopolitical.
(laughs) You are right, now I stumbled on this train.
Would you actually speak to people without using their stories for a book?
Absolutely. Of course I use some stories, but that's not what drives me. I have such exciting conversations here because I like to talk to people. This morning a visitor told me something that I couldn't write down without compromising his anonymity. During this time I noticed that I couldn't use any of it. And yet it was very exciting for me.
Interview: Ulrich Thiele
Photo: Ana Maria Arevalo
Christoph Busch can be found Monday to Friday between 9.30 a.m. and 3 p.m. in the Emilienstraße underground station.
---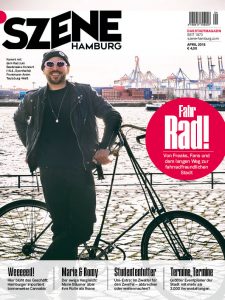 This text is an excerpt from SZENE HAMBURG, April 2018. The magazine has been in stores since March 29, 2018 and is timelessly available in our online shop or as an ePaper!