What do you like about San Jose
Costa Rica Southern Caribbean - Puerto Viejo de Limon & Cahuita
The Caribbean lies on the east coast of Costa Rica. In the north there is Tortuguero, the "place of the turtles" and in the south Puerto Viejo de Limón & Cahuita, villages with the typical Caribbean flair.
Today I'll tell you about the southern Caribbean, around Puerto Viejo and Cahuita. Palm-lined beaches with dense jungle, turquoise sea, reggae sounds everywhere and a coconut for refreshment ...
getting there
The drive from San José to Puerto Viejo de Limón takes between 4-5 hours. You could also come from Guápiles, for example after a stay in Tortuguero or from Sarapiquí, then the journey won't take that long. From San José we go through the Braulio Carillo, a national park that was only declared after the construction of an important road. This is the only reason why this road can continue to be used. Many container ships arrive in Limón, where the goods are then loaded onto trucks and brought to San José via the Braulio Carrillo. An important traffic artery! Due to the humid climate, there are occasional minor landslides or car accidents, which then paralyze all the traffic there.
Read more about the Braulio Carrillo National Park resp. the zip-lining in the park.
Accommodations
There is something for everyone in Puerto Viejo de Limón! From hostels to simple hotels and slightly more luxurious accommodations. You won't find any larger hotels here, which still makes the village look very typical and Costa Rican-Caribbean. I recently stayed at Hotel Namuwoki. A three star hotel with simple wooden bungalows and lots of white curtains and hammocks. And even if you can hardly believe it, these were really white! A very clean hotel and great room, which gave us a dry place outside in the hammock even when it was raining heavily. The staff is super nice and courteous, and takes care of all requests. Anyone looking for a television here is out of place! It's about enjoying nature and the Caribbean flair.
On the first morning we see an agouti at the reception. According to the receptionist, it has probably found its home here, because it can be seen every day, even though agoutis are relatively shy animals. This is our first highlight (next to our hotel and the white hammock).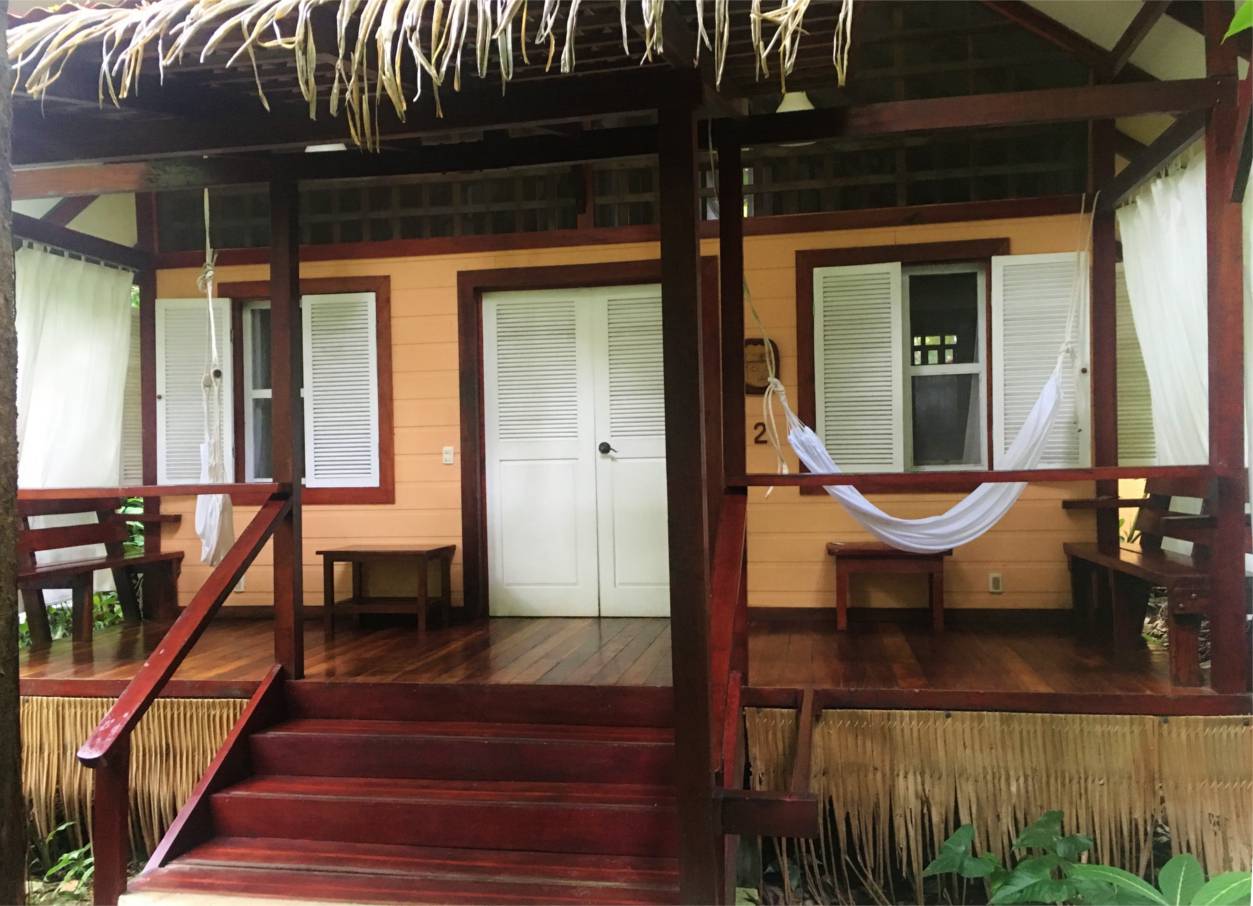 Bungalow in Namuwoki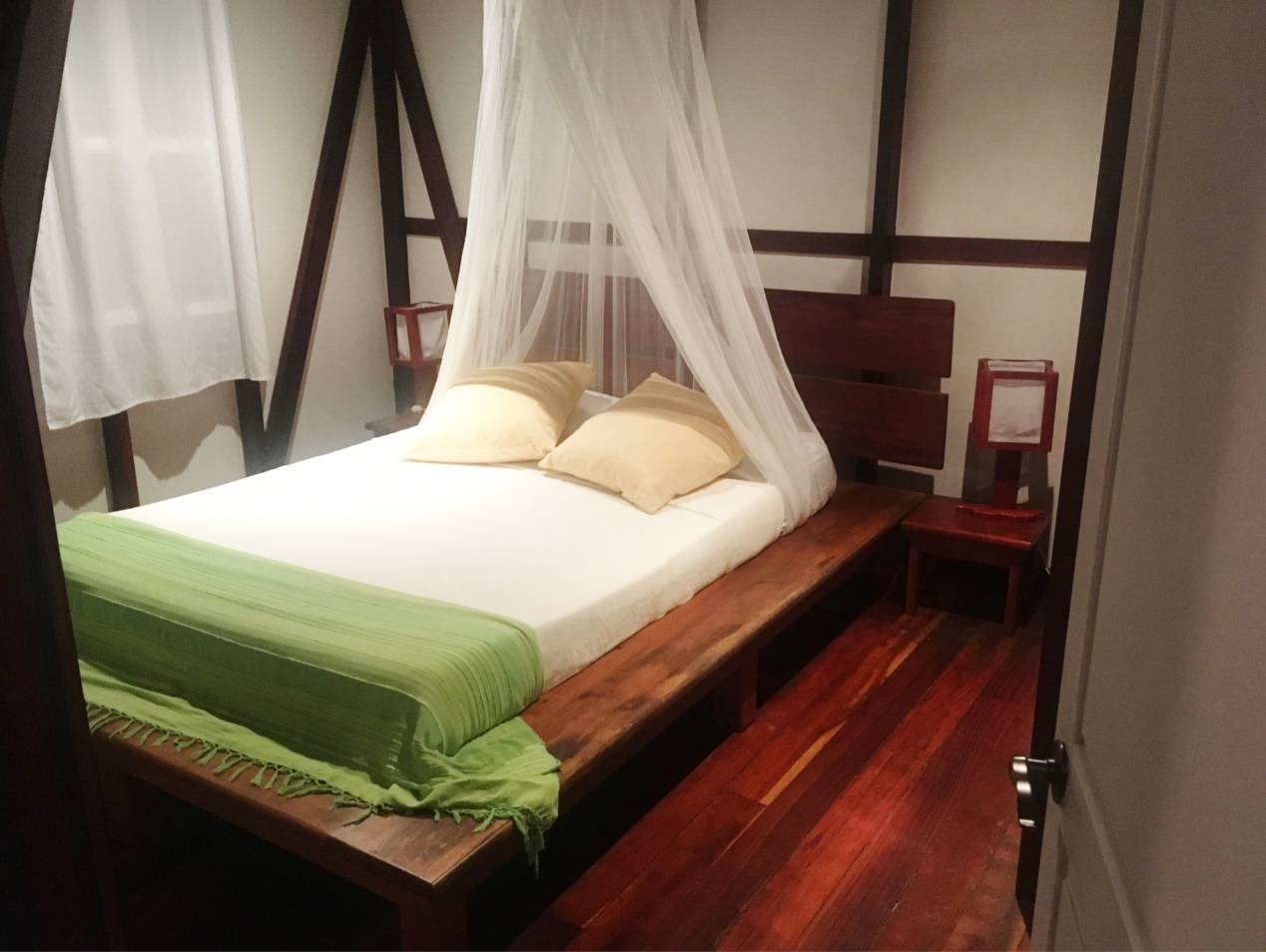 Inside bungalow in Namuwoki
An agouti in the hotel car park
Puerto Viejo village
Most of the hotels are located between Puerto Viejo de Limón and Manzanillo, and hardly any of them are actually located in Puerto Viejo, which is why visiting the village becomes a trip. The taxi drivers in this area have fixed prices. The hotel staff will be happy to help you call a taxi! In the small streets around the main street of Puerto Viejo de Limón you will find many small restaurants, bars, sodas (small Costa Rican restaurants) and shops that make reggae sounds. At the harbor there are small stalls where locals and immigrants sell their own jewelry. Cocoa and all sorts of other tropical fruits are offered at a fruit stand. How about a taste?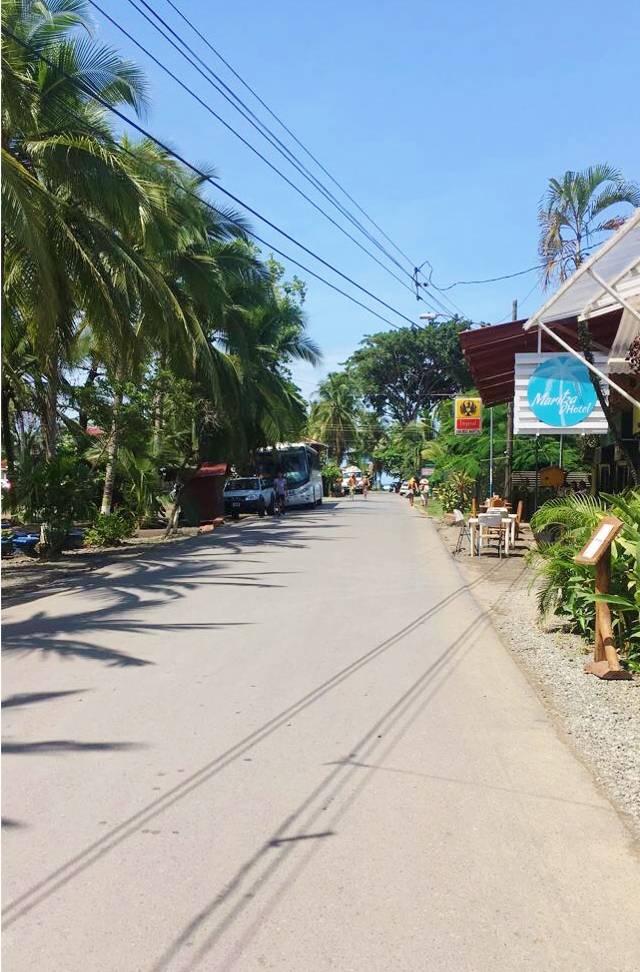 Puerto Viejo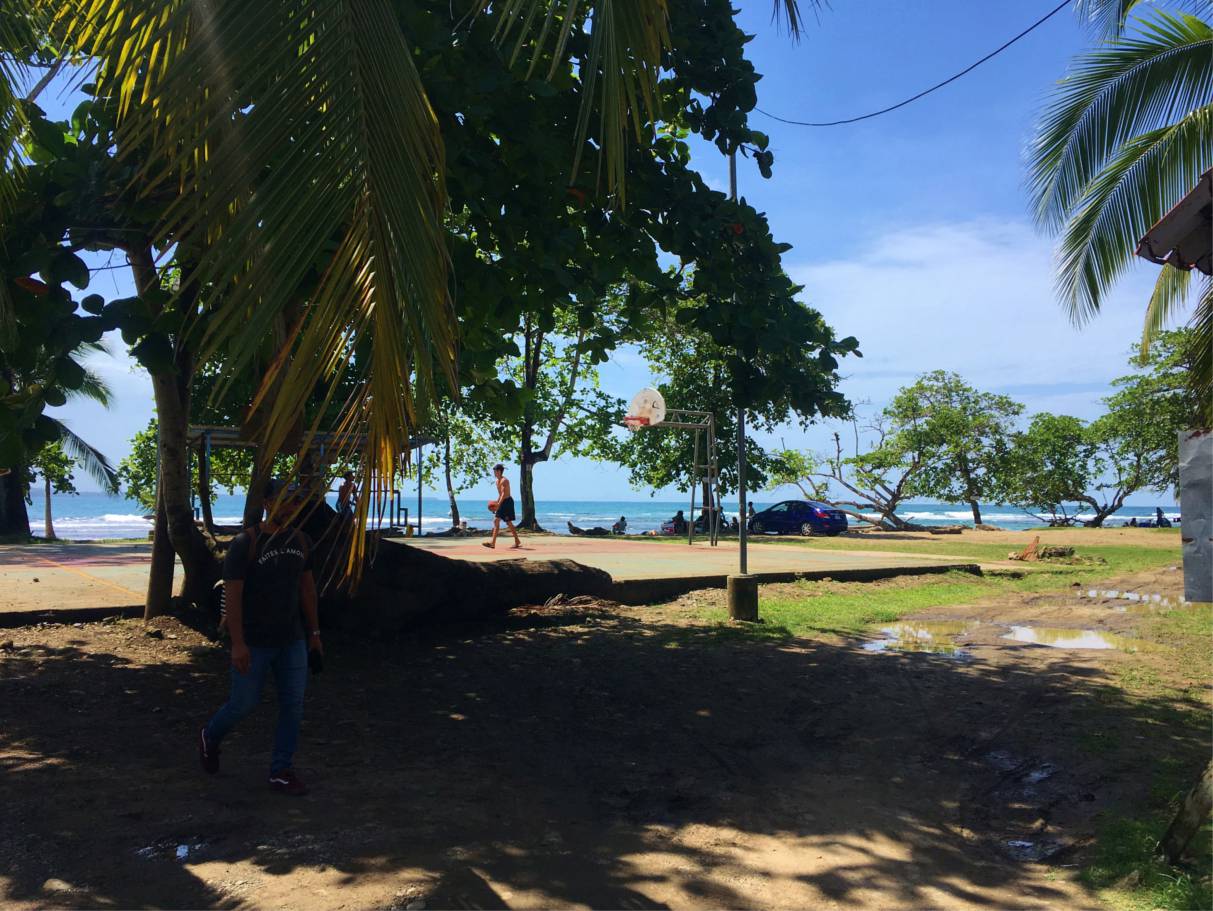 Puerto Viejo Public Bus Station
Caribbean delicacies
In addition to the delicious fruits, you will find meals and snacks that are typical of the Caribbean: Patty (dumpling with fried minced meat with chilli note), Plantintar (different spellings, it is a dumpling with red plantain sauce), Pan Bon (dry spice cake), Hiel ( Drink made from lime juice, ginger and sugar cane) or Rondon (coconut soup with vegetables and chicken). Rice and beans are often offered for lunch or dinner. You have probably already read in other articles that almost every dish in Costa Rica consists of rice and beans (if not, read here about the top 5 dishes in Costa Rica). So also in this one, but not separately, but mixed and mixed with a coconut note. There is also chicken breast or leg in Caribbean sauce and fried plantains and a small salad.
When I'm in the Caribbean, I always order a cool hat! If you can handle spicy ginger and like it, then give it a try!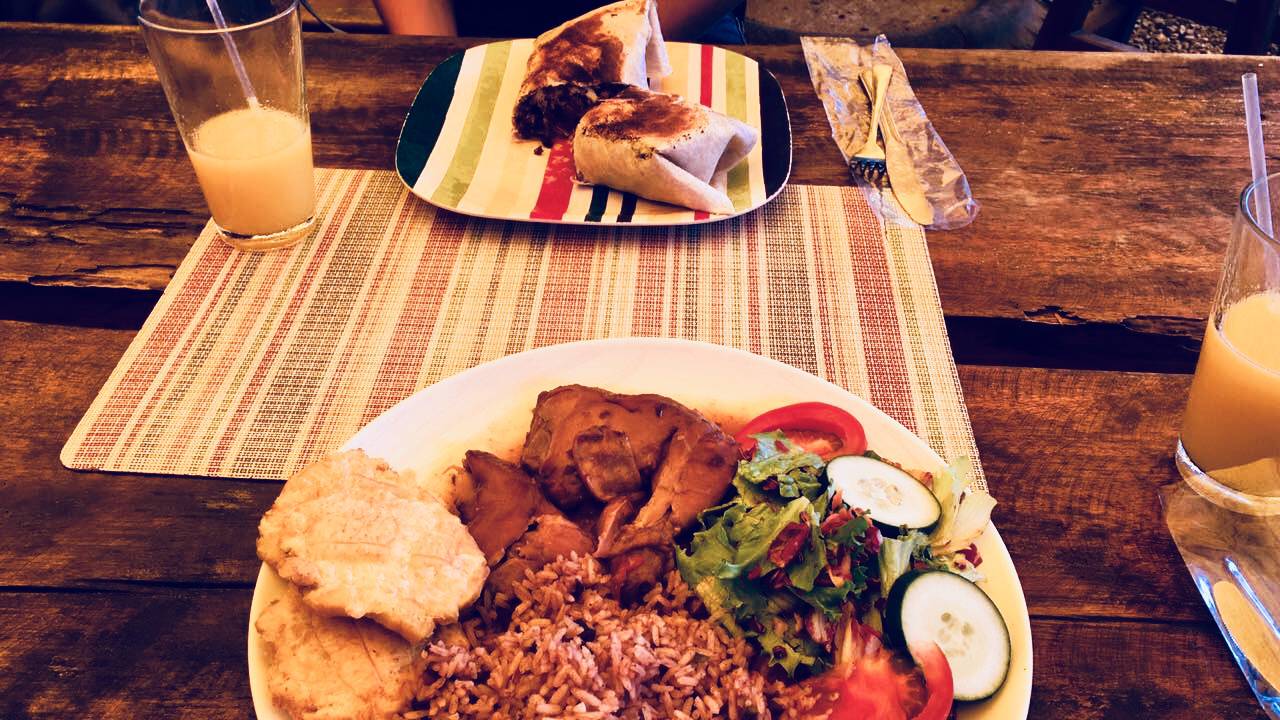 Caribbean food: Rice & Beans with patacones (fried pancakes made from mashed plantains) with chicken, fried plantains, salad
Cahuita National Park
To get to the Cahuita National Park, you can either take a taxi and speak to a local guide on site, or you can book a tour. Cahuita is about 20 km from Puerto Viejo. We booked a tour with Terraventuras which includes the hike in the national park & ​​a snorkeling trip. Due to the strong waves, Terraventura informs us that the boat driver would not go out, which is why this part would unfortunately be omitted. Well, you never know how the weather will play! I know the Cahuita National Park and have hiked it with and without a guide. I recommend that you always hike with a guide, because he knows where the animals are, has a trained eye to spot them, and provides some information about them and their way of life. So does Randy, our guide from Terraventura.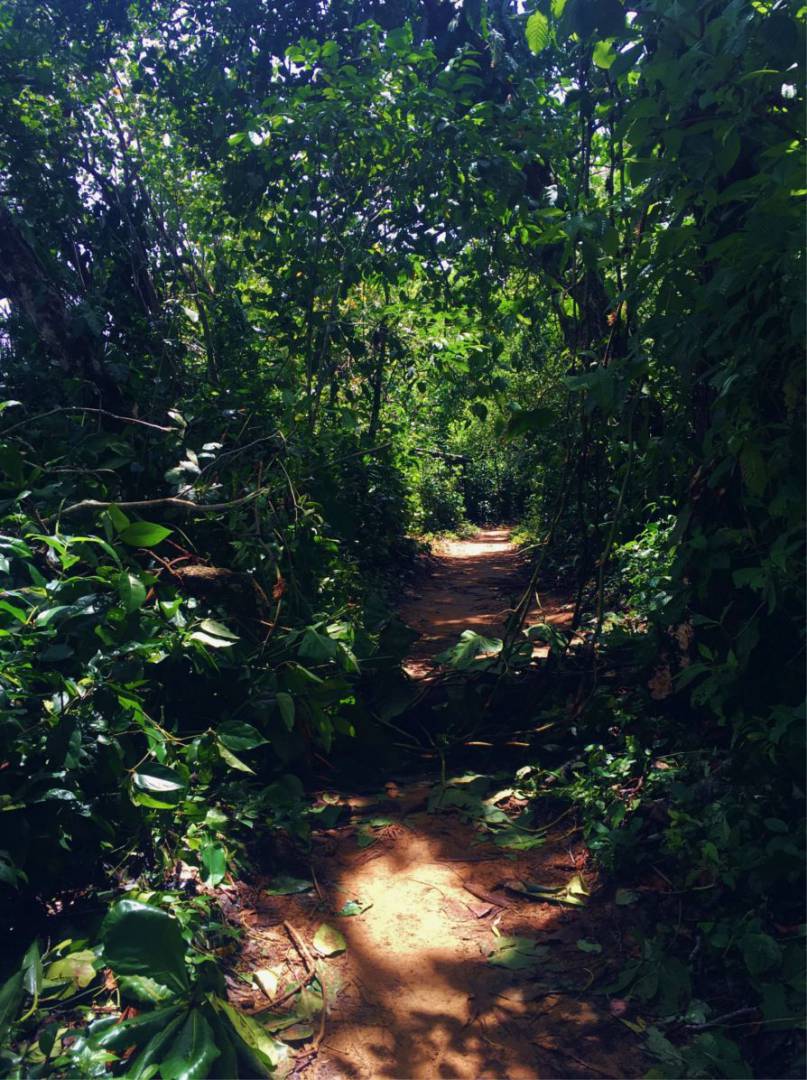 Cahuita National Park hiking trail
A small donation to the national park is required at the entrance to support maintenance and staff. Directly in front is a small lagoon, in which, as Randy informed us, a caiman is spotted from time to time. A boa would also have been seen lately. We tried to find them in the branches, but unsuccessfully. The level path leads through the rainforest, which is located directly on the sea. If you want to cool off in the water, you only need to go a few meters to the beach. Here you should always pay attention to the flags, because as we know, the red one means that bathing is forbidden (danger to life). Caution is advised when the flag is yellow. During our walk, we discovered a yellow oropel snake, many sloths in the trees, a lone white-headed monkey (usually they walk in groups), two brown little snakes that look like branches, lizards, iguanas, leaf-cutting ants, and termites even a hummingbird mom in the nest with her brood.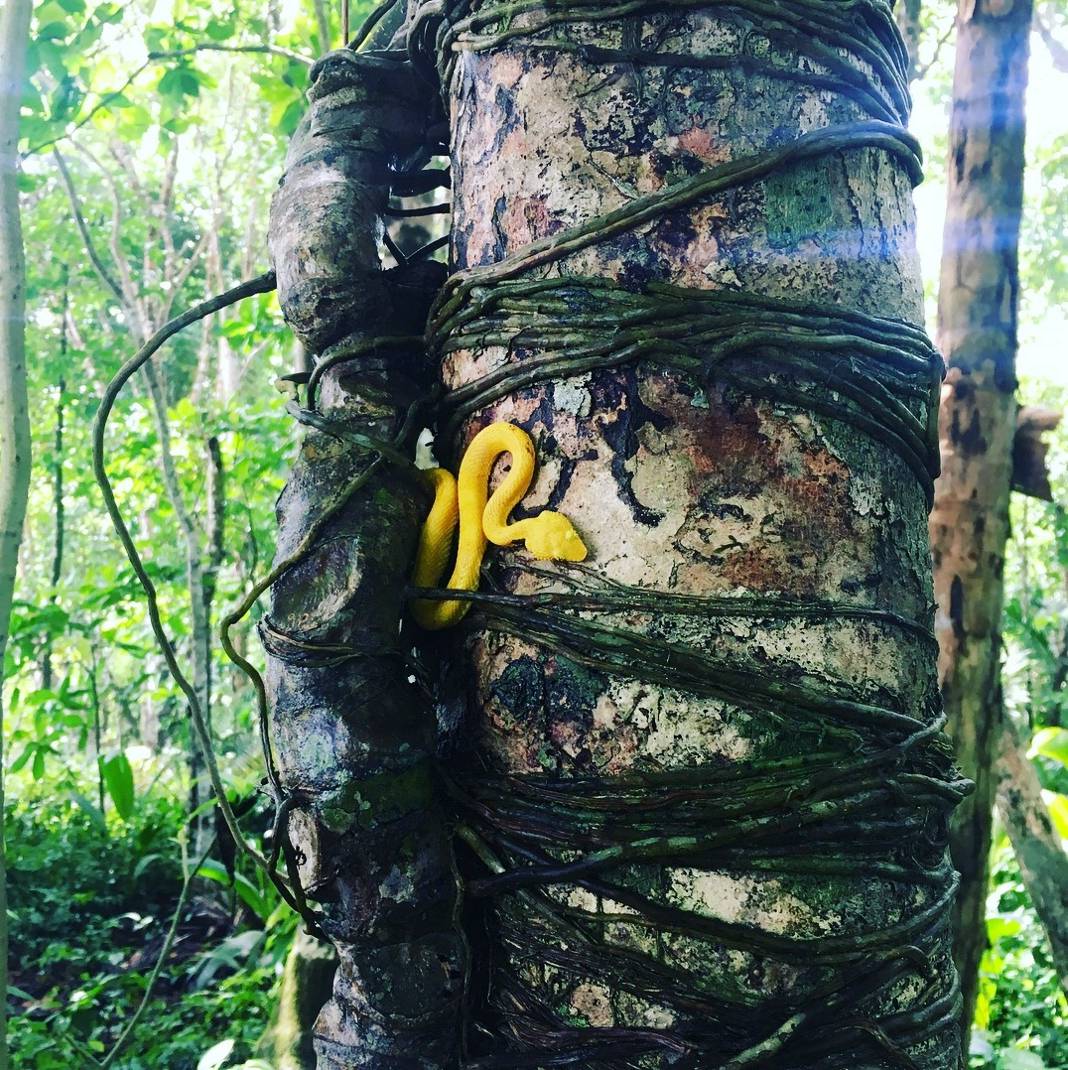 A yellow prehensile lance viper (in Spanish: Oropel)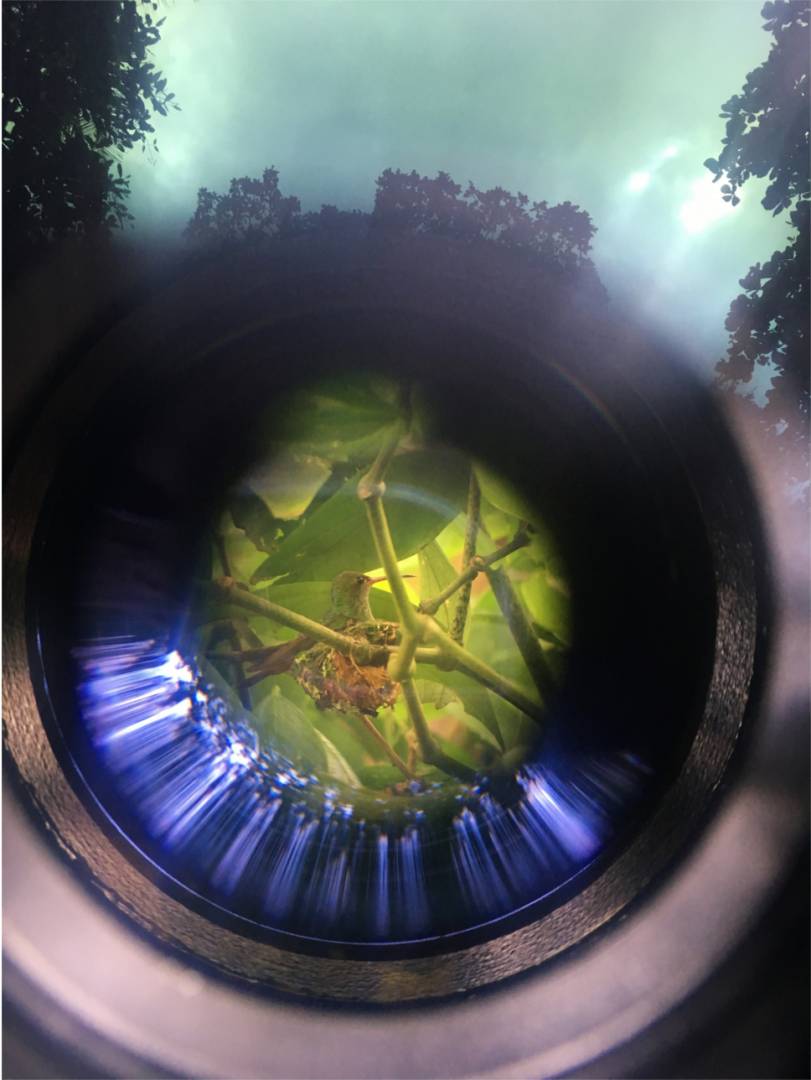 humming-bird
After about 2 hours we arrive at a small river that stops the further hike for the time being. We could also cross this (approx. 20-40 cm deep depending on the water level), but most tours only go as far as the river and then back again. Behind that, according to Randy, you won't find so many animals anymore. There you can hike to Punta Cahuita and even further to the exit in Puerto Vargas. Of course, this takes a lot longer. For us it's going back first.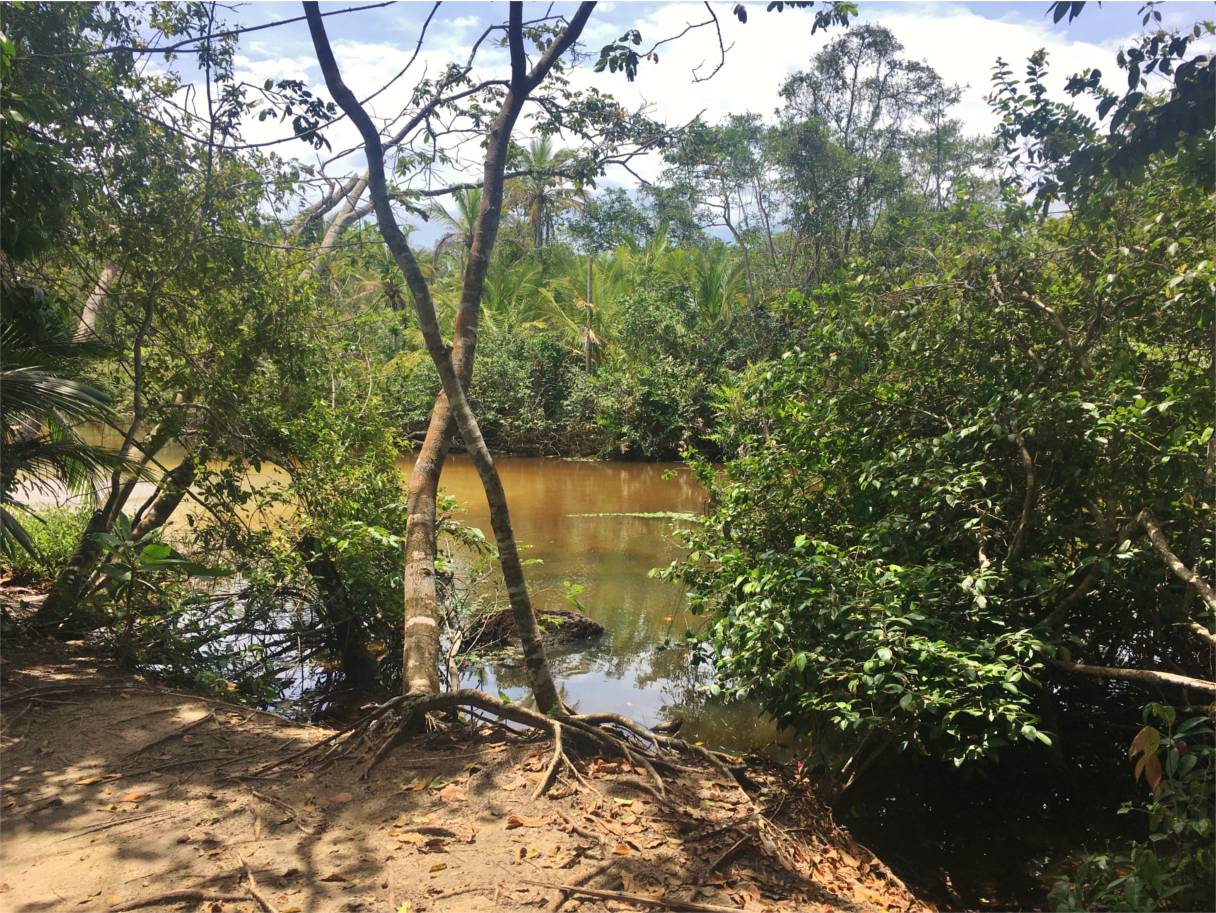 Cahuita river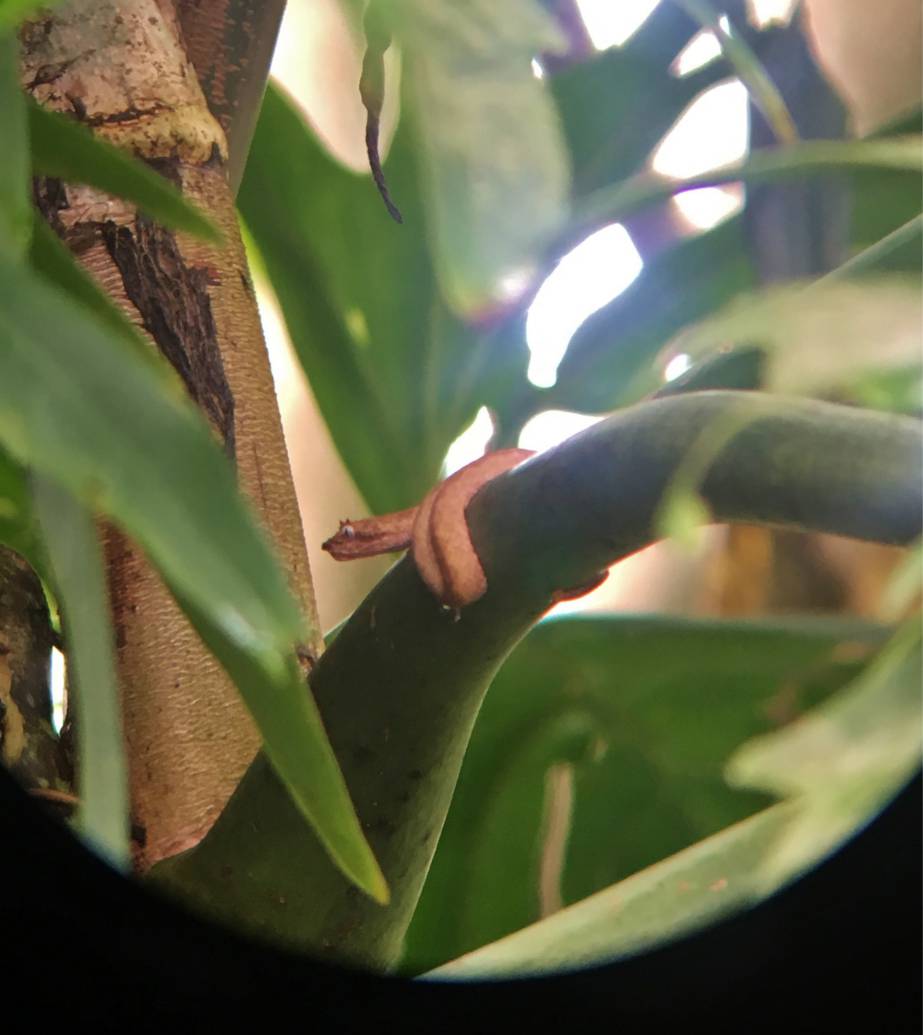 A well-hidden snake that can hardly be seen with the naked eye
During a long conversation, Randy tells us that the village of Cahuita used to be on the Punta Cahuita and that it was only accessible by boat. With the growing tourism, the village has moved a little further out and the area has been declared a national park. By the way, at the exit of the park, approx. 50 m away, there is a small house where the best patty in the Caribbean is sold. In addition to patty, there are also plantintar, hiel, panbon, banana bread and coconut biscuits, the typical snacks that I have already told you about above.
Since rainforest grows on both sides of the main road between Cahuita and Puerto Viejo, wild animals such as monkeys or sloths also happen from time to time. So we see a sloth on the way home to the hotel and stop. A daredevil grabs the animal and brings it from the street to the other side (attention: please do not imitate!).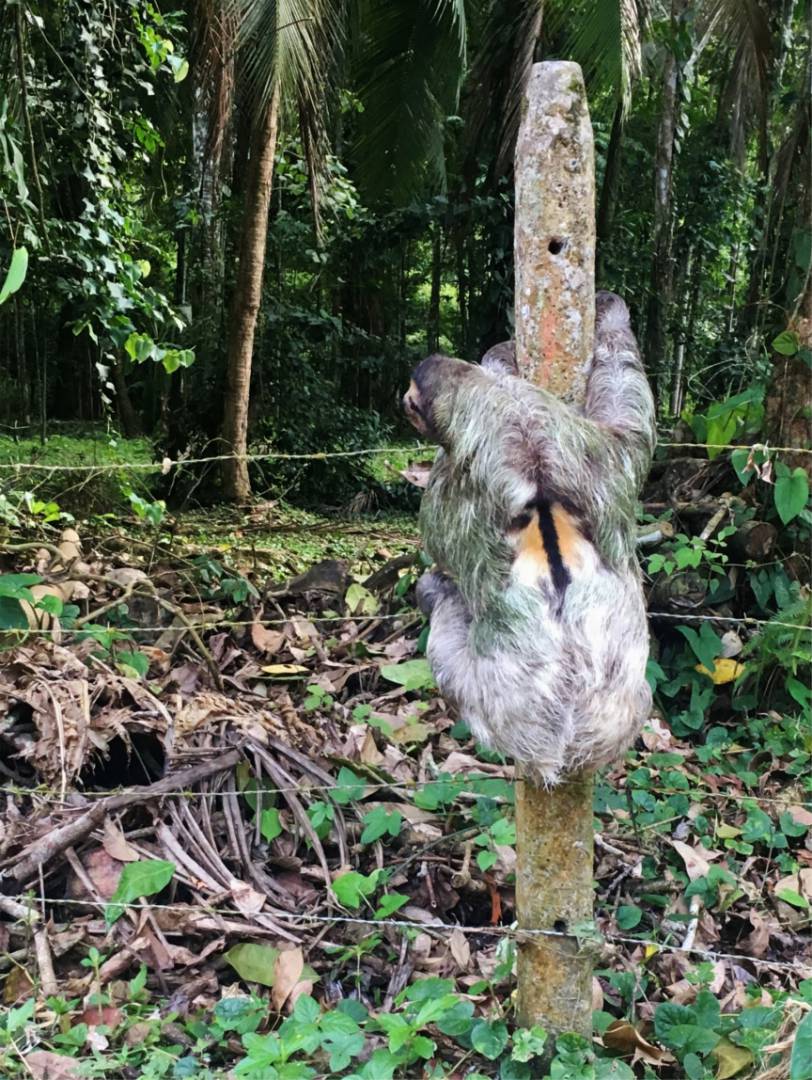 A sloth on the side of the road
... simply fantastic: The colorful flowers, the lush green of the palm trees, the turquoise and warm sea, the many animals that you can observe in the national park, the reggae sounds and the locals make this place something very special!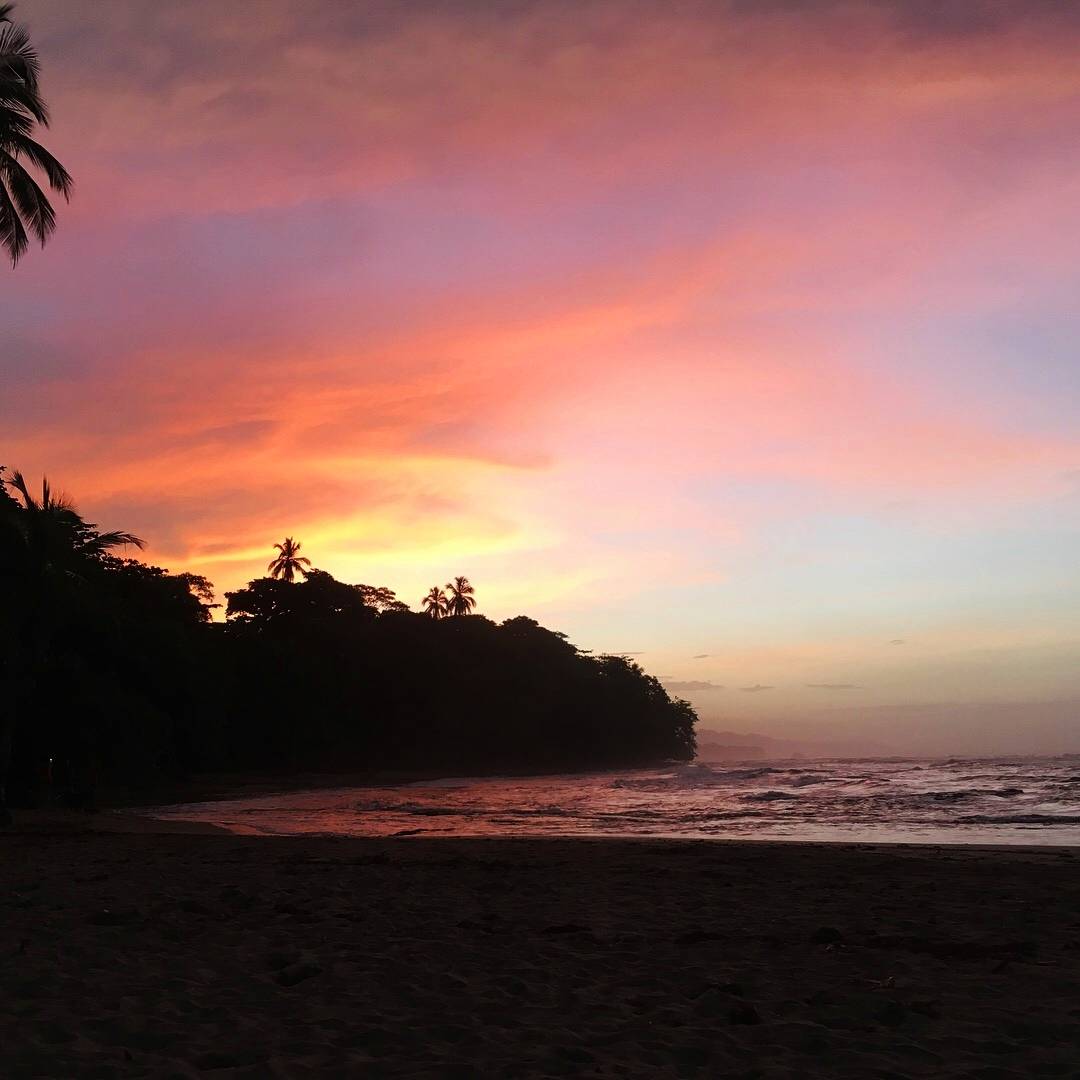 Sunset in Puerto Viejo on the beach "Playa Chiquita"
I hope I was able to give you a taste of the Caribbean! It is my favorite place of all those I have gotten to know in Costa Rica so far and every time friends or relatives visit me I try to travel to Puerto Viejo with them.
When are you coming to the Caribbean?