How much time should I spend socializing
Eating together - a dying way to spend time together?
Post Views: 3,003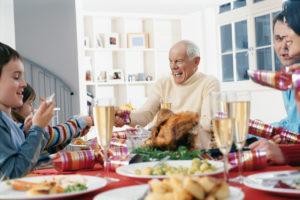 As recently as 20 years ago, people spent an average of 33 minutes a day at the table with loved ones. Today that time has shrunk to 14 minutes and 27 seconds. (John Naish - Enough)
Let it melt in your mouth: Today we only spend an average of 14 minutes eating together with the people who are most important to us.
But aren't the hours we eat together with family and friends among the most beautiful in our lives? To share food, to talk to each other, to laugh. Aren't some of our best childhood memories associated with delicious food, sitting at the kitchen table with loved ones? Or to be invited to friends and to be able to eat there?
Eating is one of our basic needs in life. It is said that eating keeps body and soul together. But for me there is still one Another important aspect: eating together. And this includes not only the pure "food intake" but also the social gathering.
Or is it really so desirable to sit and eat alone in a restaurant in the evening, whereas in the rest of the restaurant people dine together? Or in a family everyone ransack the refrigerator when they are hungry and there is no longer a time when the family really gets together?
It is also clear that all of this is not so easy with our rigid schedules. But as a former math teacher used to say: "Nobody said anything about simple either."
The will to change counts. And the argument with "I don't have time" is a clear one Reference to the setting of priorities. Because in reality this sentence goes even further and completely means "I have no time for it" and translated even more real: "I don't want to have time for it because other things are more important to me".
It is also clear to me that I am not necessarily loved for this interpretation. But let's be honest: what happens all of a sudden when we know we still have two working days and then we're going on vacation? It's funny what we get baked in such a short time that we couldn't manage before. Or when the favorite team is playing soccer, they suddenly stop working overtime as they usually do. Hm, so what does this commercial tell us?
How about making that a topic? In the family, in a partnership, with friends? How can this wonderful, connecting, beneficial ritual of eating together be revived? For example, which evenings are sacred from now on? How can this be implemented in the Freundeskreis? Maybe with a fixed evening a month? I'm sure there are hundreds of ways that easily go to help Eating together can become a regular part of our lives again.
We are part of the community that we strengthen again and again. With this we strengthen ourselves, because we strengthen the connections that we absolutely need in our life. It is an illusion not to need anyone. Nobody is an island and it is all the more important for us to cultivate community in our lives.
And if it tastes good, so much the better :-) How do you feel about eating together in your life?

Image source: Microsoft online

---
Would you like to read from me regularly? Then become part of over 800 enthusiastic subscribers and get the newsletter.
There are recipes for happiness from your own production for you! Click here and you're ready to go
---
It worked! Check your emails and click the confirmation link to sign up