Which city is better Aceh or Medan
Back to the roots
Travel time: April 2011 | by Sabine H.
Medan City and Brastagi
After a cold shower in the open-air bathroom and a simple breakfast, I've packed my stuff and meet Welly again. Now we have another couple of hours to drive to Medan. The conversation starts flowing again, I've grabbed the dictionary again and am happily throwing Indonesian vocabulary around. On the first day we only sniffed each other politely, but at least I found my companion to be absolutely sympathetic. I think Welly is no different with me. So today we let our curiosity run wild and inquire about our family relationships. It continues with the subject of earthquakes in Japan and so we are also quickly on the subject of the 2004 tsunami. Welly tells me what it looks like in Banda Aceh today, so we come to the separatist movement in Aceh in the 90s, discuss terrorism in Indonesia which leads to the topic of Bali. Bali is apparently a dream destination for Indonesians too. I have already been to Bali 3 times and tell how I experienced and felt Bali (very nice, but sometimes also incredibly annoying). The 3.5 hour drive to Medan goes by incredibly quickly in this way. Arrived in Medan, I buy an English-language newspaper out of the car window at a street crossing and hey presto, we're back in Japan thematically and exchange our opinions on nuclear power plants. So there is practically no topic, no matter how complicated, that we leave out and despite the language barrier, we have no communication problem at all.
Back to the subject of Medan: Medan is the third largest city in Indonesia, after Jakarta and Suryabaya. Hardly anyone associates any noteworthy sights with Medan. Hardly any guidebook - including my Lonely Planet - claims from Medan that the city is even remotely worth visiting. A place to leave as soon as possible ...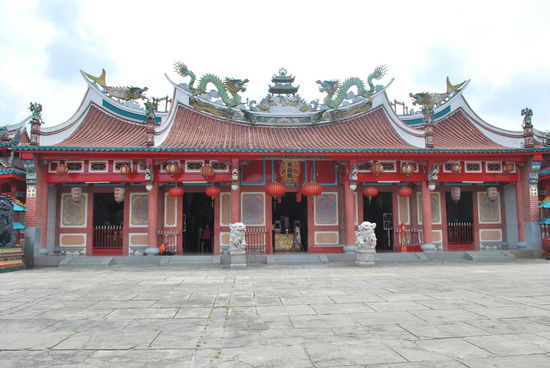 First of all we have a Chinese temple on offer, so ugly is different!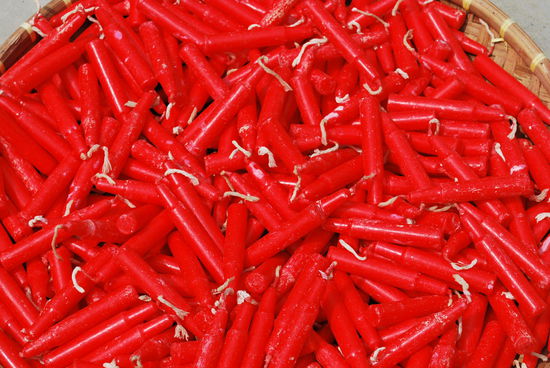 I only photographed it, not analyzed it, are they Chinese firecrackers or candles ??? There is more to be said for candles ...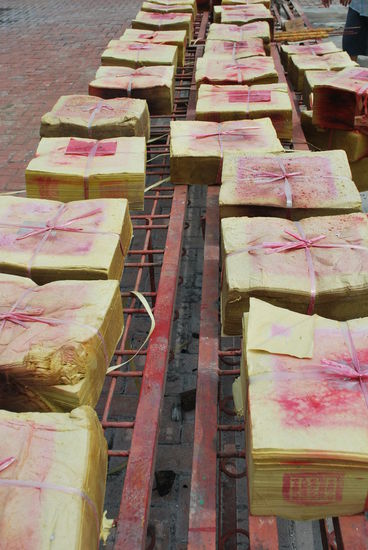 Bundles of paper - waste paper ??? No, definitely not. These are probably wish lists, in my experience always represented in Chinese temples ...
Extremely important: incense sticks! Always works and always has to!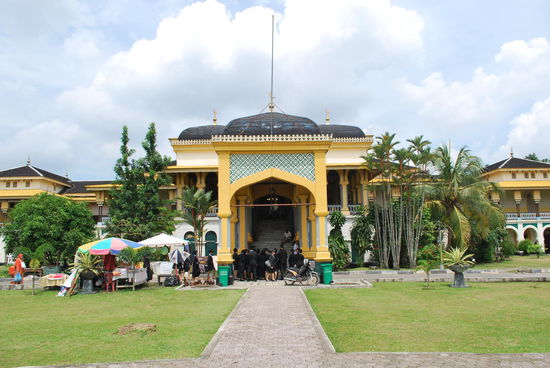 Second, the former royal palace (Istana Maimoon) is not uninteresting! Beautiful park around it and inside you won't be bored for the next 15 minutes either!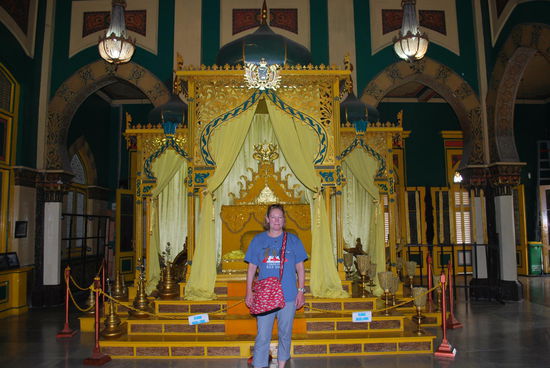 That's the throne of the last king of Sumatra or something. At least yellow, and thus in the color reserved for kings as far as Asia is concerned.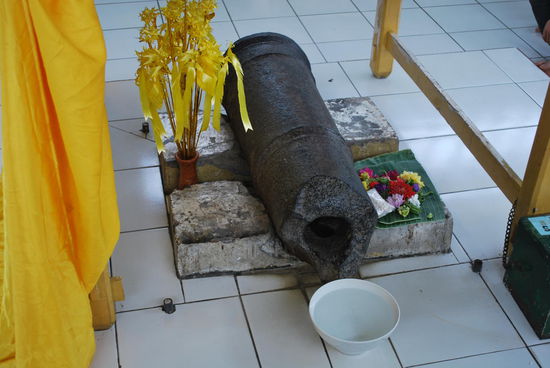 Well, I swim a lot there ... A cannon that ... uh, was torn apart at the battle of ... uh ... and uh, well ... is now halfway here and it was miraculously made the other half hurled tens of kilometers from here to Brastagi. Which is definitely a miracle ... uh ... if that's true. Or so. In any case, the part is a lucky charm, like that! Walk around and make a wish. Helps always !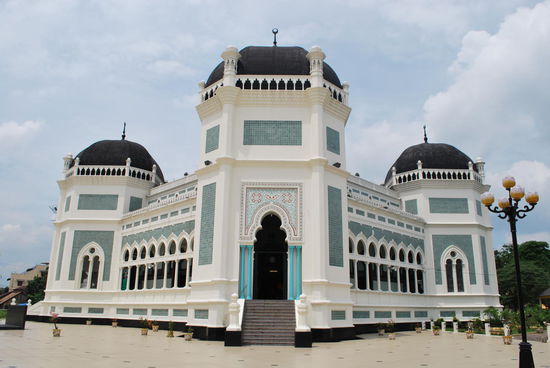 The beautiful mosque of Medan (Mesjid Raya)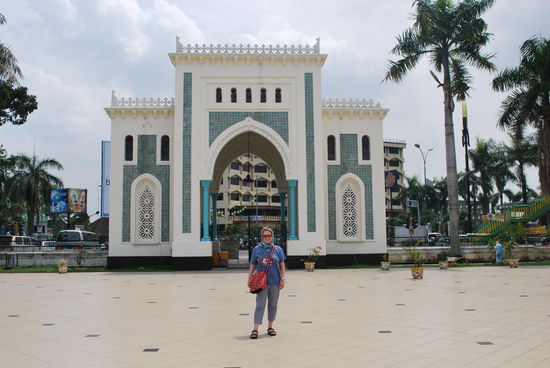 I like mosques very much and I've never bothered about the headscarf rule.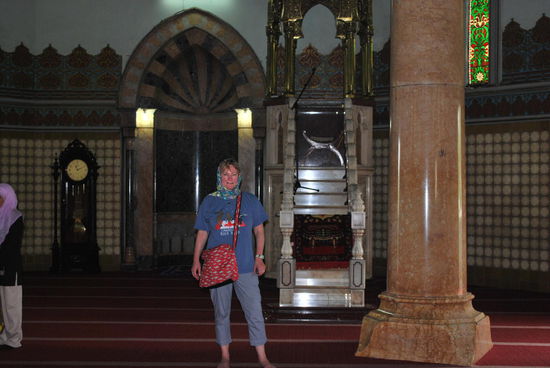 If you want to visit the main mosque in Medan, admission is officially free, but you will be presented with a donation-and-guest book. It is better if you register yourself there with a few thousand rupees ... as a woman you get a flower headscarf thrown down without comment if you forget your own "veil".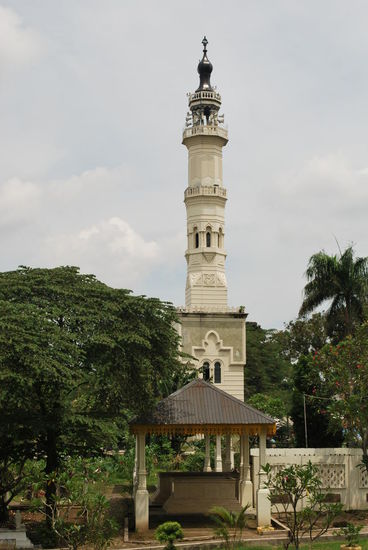 minaret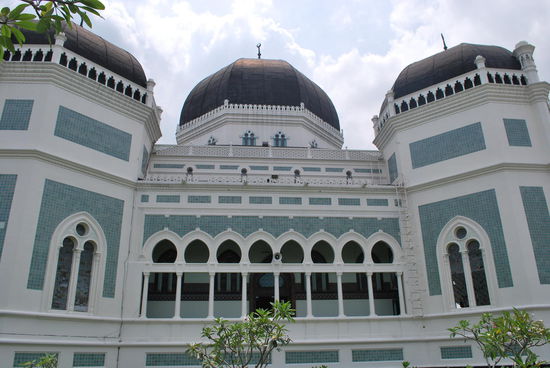 Architecturally the highlight of Medan - the mosque ...
Now we are crossing the CBD Medans. Shops, hotels, restaurants, banks. All the most beautiful Dutch colonial style.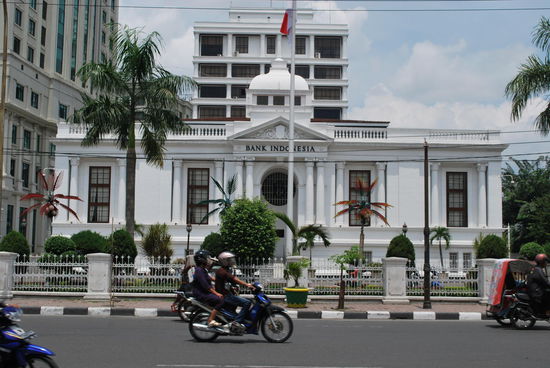 Bank Indonesia in a beautiful colonial building.
Welly is now really surprised that I want to photograph a bank of all places and that he has to drive to a pretty stupid parking lot. I explain to him that I work in a bank and oh, ha! But now we have a topic to talk about !!!! Banks in Indonesia, in his opinion real shark tanks of Chinese origin. Now he is getting loud and scolding like a pipe sparrow about the lending practices of Indonesian banks and their obvious preference for Chinese-born customers. Well, I'd rather keep my mouth shut about that.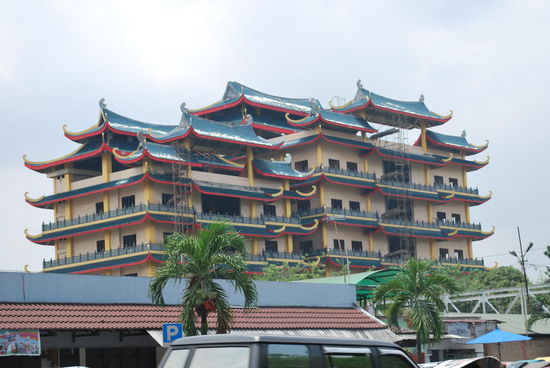 I would have guessed a hotel or an apartment complex, but it's a Chinese temple (still under construction). Says Welly.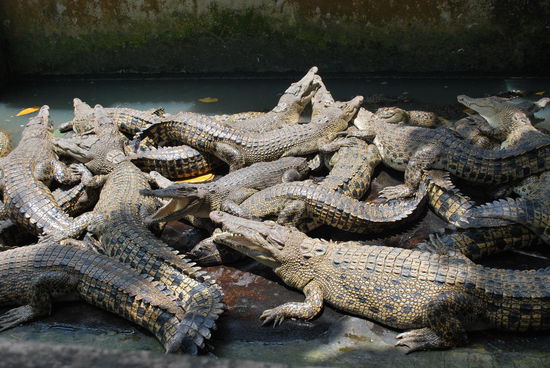 We also stop by a commercial crocodile farm. The poor creatures are made into handbags, belts and shoes and the meat is eaten.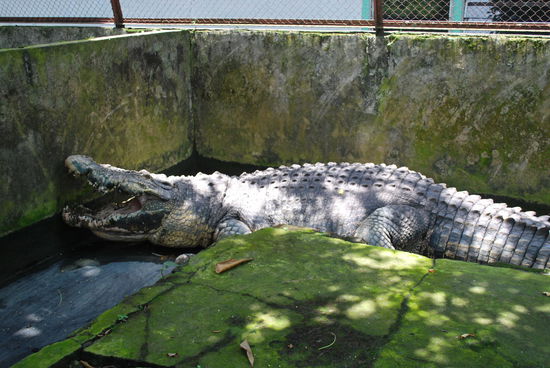 A couple of handsome specimens are included ...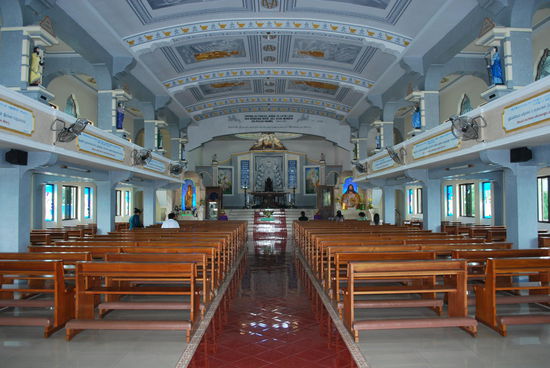 After the mosque and temple, all that's missing is a church and ta dah: Here it is!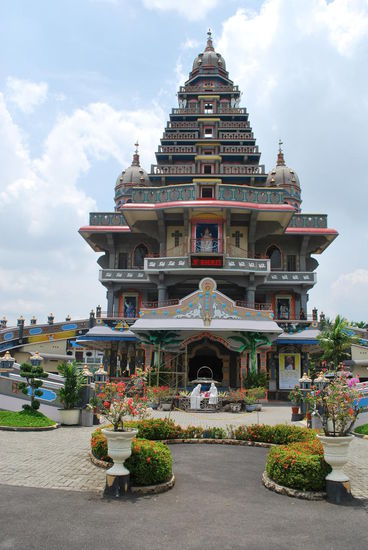 A quite unusual church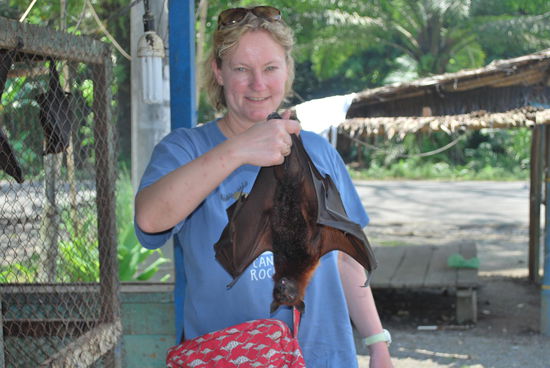 Bats are sold here on the side of the road and they are medicine. Bat helps against asthma. Aha!
After a short gas station stop (fuel is dirt cheap here for our standards) we left Medan and are on the direct route to Brastagi. The city is located in the highlands, has a pleasantly cool climate and is bordered by 2 volcanoes, the Sinabung and the Sibayak, the latter of which smokes permanently. When we arrive, however, both volcanoes are covered in mist. Too bad. I take a tour of the wonderfully colorful market and buy nice, sweet strawberries and juicy mandarins from the area. At the market, tourists are used to who are all looking for brightly colored photo motifs and demand moon prices for fruit, so tough bargaining is the order of the day. The market women speak - for that matter - excellent English.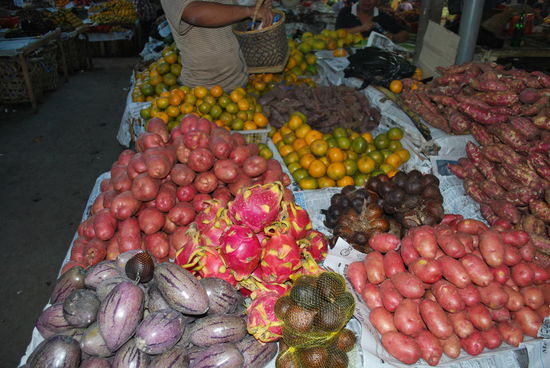 Welly drops me off at the hotel. I take another walk through the area and it starts - you can almost set the clock - to rain or pour. The rain jacket doesn't help me at all, because it gets wet in seconds. And you get looked at quite stupidly when you walk through the deserted streets as a tourist in pouring rain. The locals don't come up with such crazy ideas ... well, I've had enough and order my after-work beer at the hotel ...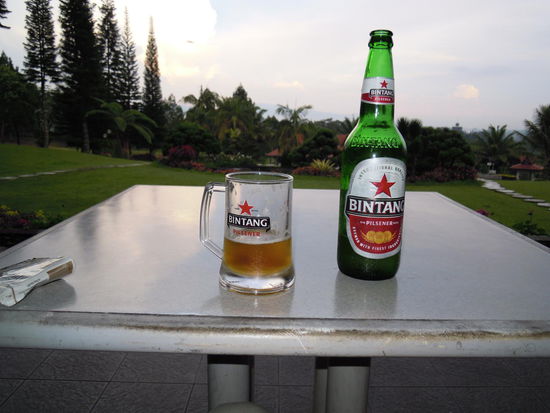 Bottom up !
What's the matter?:
Back to the beginning of my long-haul travel: Malaysia, Indonesia, Thailand - but still different and new!
Details:
| | |
| --- | --- |
| Departure: | 09.04.2011 |
| Duration: | 17 days |
| Homecoming: | 25.04.2011 |
Destinations:
Malaysia
Indonesia
Thailand